Gas market

Ukraine continues to meet the demands of European consumers for the transportation of Russian gas, compared with last week, the volume decreased only by 0.8% to the level of 1028625 MWh [1] per day.

The main news of the week was Gazprom's incorrect position regarding the preservation of gas transportation via the Novopskov compressor station, which was seized by Russian troops. Given the loss of communication with the equipment and personnel, the operator of Ukraine's gas transportation system offered to shift the volume of transportation from the occupied facility to the controlled flow. The Russian holding company refused. Despite this incident, Ukraine continues to fulfill in a timely manner all the requests of European consumers in terms of Russian gas supplies.

Ukraine's gas imports remain minimal at around 1,192 MWh per day, coming only from Poland. Therefore, the Ukrainian gas market mainly sells the resource from storage facilities. The maximum price, compared to last week, has increased by 5% to €98.0 per MWh. The daily price fluctuation averaged 4.9%.

Despite this, next week's gas price will drop due to the opening of trading for the month of June, which is characterized by lower demand from consumers.

As gas prices in Europe have been decreasing this week (minimum is €88 per MWh [2]), Ukrainian gas producers will refrain from exporting to the EU market.

At the same time, Ukraine's gas storage operator is preparing for an increase in storage requests - about €30 million has been invested in overhauls for the first time in 10 years.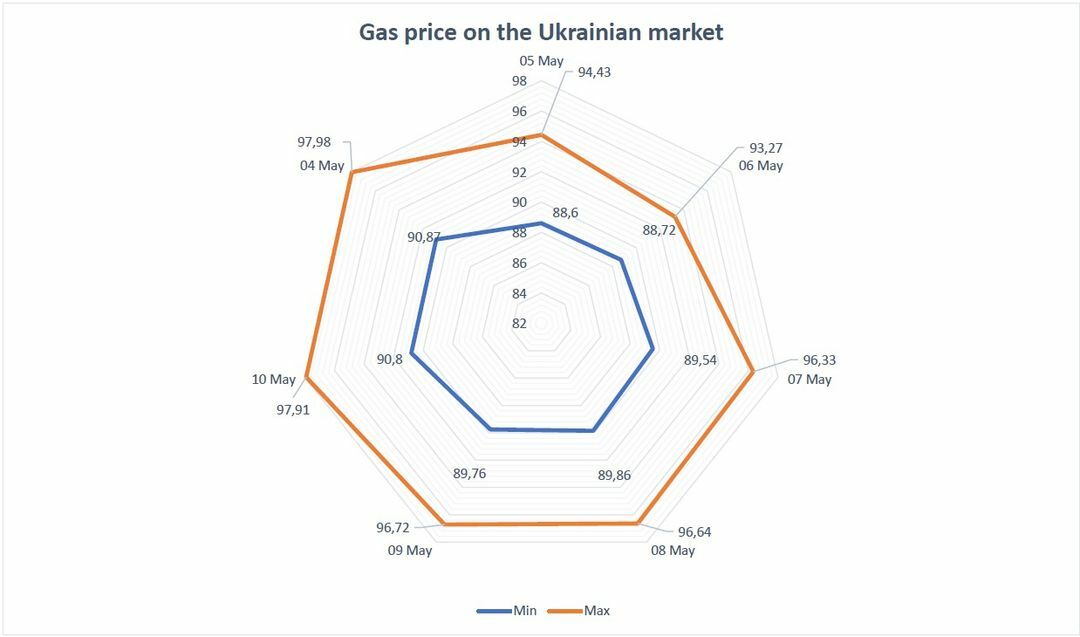 Electricity market

The Ukrainian power system has been working stably in sync with the continental European grid (ENTSO-E) for over two months. Commercial exports to Poland via the Dobrotvorskaya TPP-Zastnost directed transmission line remain on an even schedule throughout the day at a maximum of 210 MW.

The start of electricity exports from Ukraine to Moldova was a landmark event of the week. Daily sales amounted to 146 MW, or 30% of Moldova's consumption. In addition, Ukraine's transmission system operator made the first payment of interest on obligations under green Eurobonds worth $28.4 mln [3].

There were also changes in the day-ahead market, with the supply volume down 12% to 72,000 MWh compared to last week. The largest decrease (up to 15%) occurred during overnight load hours. In the purchase structure, suppliers account for 86% and network operators for 13.6%.

On the intraday market, for the last 7 days the price situation has not changed, despite the increase in demand during the peak load period.


[1] Including: 974820 MWh per day for consumers in Slovakia, and 55915 MWh per day for consumers in Moldova
[2] At the CZ VTP hub, prices were around 83.5-86.3 €/MWh.
[3] The Eurobond was issued in November 2021 for $825 million, with a yield rate of 6.875%.