Ukraine's largest business community of energy companies Energy Club joins #StopBloodyEnergy initiative and will daily address to Western companies with appeals to stop cooperation with Russia in fuel and energy sector.

On April 15, Energy Club sent an appeal to representatives of PPD (Croatia), Engie (France), Gasum (Finland), MVM CEEnergy Zrt. (Hungary).

Prvo plinarsko društvo (PPD) is the largest natural gas importing company in Croatia. Established in 2001, the company is based in Croatia but also runs its business from companies that PPD owns in Hungary, Switzerland, Italy, Slovenia and Bosnia and Herzegovina. PPD's clients include major customers in the business and industry sectors, as well as the most important suppliers of natural gas in distribution areas.

Gazprom Export LLC's key partner in the French market is Engie, which has now five long-term contracts in place for russian gas supplies. Engie does not conduct any production activities in russia, and no investment projects in russia are being implemented. However, there are operations under way as part of concluded gas contracts. The long-term contracts between Engie and Gazprom in 2021 accounted for about 20% of ENGIE's total gas sales and consumption across the globe.

Gasum is a fully state-owned company. 73.5% of the shares are owned by the state company Gasonia Oy and 26.5% directly by the state of Finland. After the start of Russian aggression in Ukraine, Gasum's natural gas supplies continue as usual. The company commented that "an active dialogue is ongoing with the relevant national authorities and stakeholders regarding the situation".

MVM CE Energy Ltd. is the largest natural gas trader on the free gas market in Hungary. In terms of sales revenue, the company is one of the largest companies in Hungary. MVM CE Energy Ltd. is part of the 100% state-owned MVM Group. The company has not announced plans to stop buying Russian gas.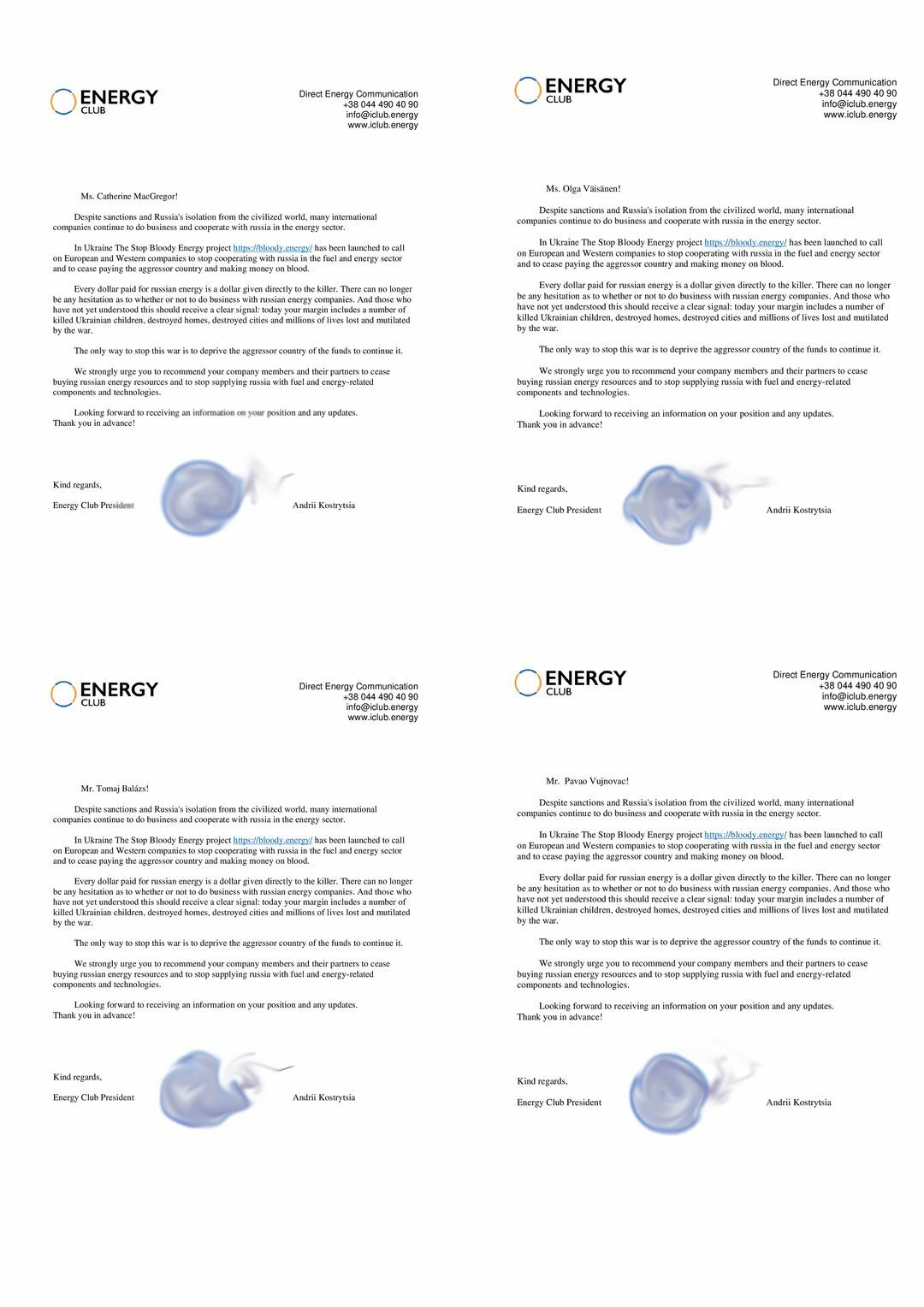 Representatives of Ukraine's largest energy companies united to create an expert platform to fight on the energy front. DTEK Group, Naftogaz Ukrainy and Ukrenergo have launched the Stop Bloody Energy project and called on Western companies to stop cooperating with Russia in the fuel and energy sector.